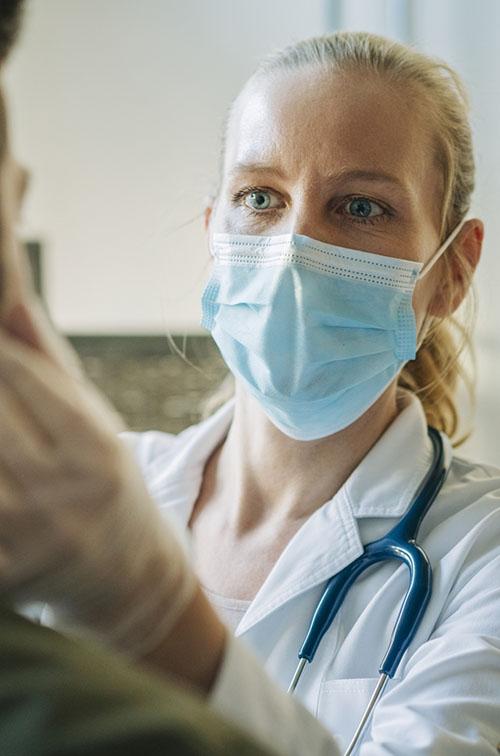 When Every Second Counts, You Can Count On Us
Texas Health Huguley Hospital has been recognized for excellence in emergency care. Our team is here to treat you with compassion and provide expert care close to home. Whether you need treatment for a fracture or a suspected heart attack, our emergency department has you covered.
Emergency Center of Excellence for four consecutive years by Emergency Excellence
Joint Commission Gold Seal of Approval® for Chest Pain
Level IV Trauma Center designation by the Texas Department of State Health Services
Primary Stroke Center Advanced Certification by The Joint Commission
Reasons to Visit the ER
If you have sudden severe pain or your health takes a sharp turn for the worse, trust your gut and go to the ER. If a condition is life-threatening or has the possibility of leading to disability, call 911 or go to the closest emergency room.
• Complicated fractures
• Major head injury
• Severe burns
• Deep wounds
• Poisoning
• Suspected heart attack
• Extreme difficulty breathing
• Severe allergic reactions
• Suspected stroke
What to Expect When You Go to the ER
When you arrive, we will ask for your name, birth date, medical history and the reason for your visit. We'll take your vital signs and, from there, determine how to proceed. To make this process less stressful and expedite your treatment, consider keeping an information card with you at all times. This card may include your primary care physician, a list of your medications, any drug allergies, your healthcare proxy and powers of attorney.
We carefully prioritize the order in which we see patients using a process called triage. This can make a lifesaving difference when patients are in critical condition. A person suffering from a stroke or heart attack might be seen as soon as they arrive to ensure they get the immediate care they need. This means a later-arriving patient with a more critical condition might be seen before you. When that is the case, we strive to make your wait time as short as possible to help you ease your pain.
Overnight Observation in the ER
An ER trip may require an overnight stay to ensure you achieve the proper recovery. When that is the case, our ER has comfortable overnight observation rooms that allow you to rest so your doctors can monitor your condition closely.
Specialized Critical Care Facilities
Our ER uses advanced technology and is staffed with a specialized team of emergency physicians, critical care nurses, pain specialists and other trained specialists. When you come to us for an emergency, you'll have access to our:
Medical Intensive Care Unit (MICU)
Cardiovascular Critical Care Unit
Cardiac Catheterization Lab